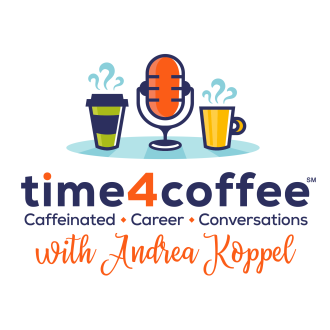 ABOUT T4C
Time4Coffee is a podcast and website dedicated to helping college students, and recent graduates and those still looking for the right fit, navigate a rapidly changing global job marketplace. Let's face it, for a young person today, let alone an older job seeker, what is unquestionably exhilarating about these changes and endless possibilities, can also be downright paralyzing and overwhelming.
As the Time4Coffee name implies, these in-depth interviews and related blog posts will explore many of the same topics covered when people meet, in person, over a cup of coffee to ask for career advice. However, without personal connections and geographic proximity, most students wouldn't have entrée to meet these professionals in person. Therefore, the Time4Coffee podcast will leverage social media and other cutting-edge tools and technologies, like Facebook Live, YouTube, LinkedIn, Instagram, and other social platforms, to generate unique insights, practical advice and meaningful engagement between students, and recent graduates, and professionals, at various stages of their own careers, around the country and the world.
ABOUT ANDREA
Andrea is a serious java junkie, and tea tippler, who spent 20 years as an award-winning broadcast journalist – the last 14 with CNN – before reinventing herself in 2008 as a Public Relations and NGO (non-profit) executive.
During her time at CNN, Andrea spent 5 years as a foreign correspondent based in Japan and China and 8 years as CNN's State Department correspondent reporting on American foreign policy. (Check out the photo of Andrea getting an exclusive interview with Libya's now deceased dictator Muammar Qaddafi in December 2003 while she was EIGHT months pregnant with her son.) And last, but certainly not least, she finally put her Political Science degree to use (!) – chasing down members of Congress for on-camera interviews as Capitol Hill correspondent. WANT TO GET IN TOUCH WITH T4C?